Culture Night Belfast
---
Culture Night Belfast 2020 took place online this year. Culture Night Belfast Online showcased cultural diversity across a range of art forms including music, film, visual arts and arts for young people.
Belfast City Council
Cathedral Quarter Trust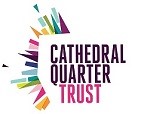 Organiser Bio: The Cathedral Quarter Trust (CQT) supports arts, culture and heritage in Belfast's Cathedral Quarter through promoting and organising activities, raising awareness and encouraging public participation, and facilitating co-operation amongst stakeholders.
Contact Name: Susan PIcken
Contact Number: 077 7364 4826
Contact Email: [email protected]
Address: 109-113 Royal Avenue Belfast, BT1 1FF
Website: Visit Website