International Big Lunch in the Park
---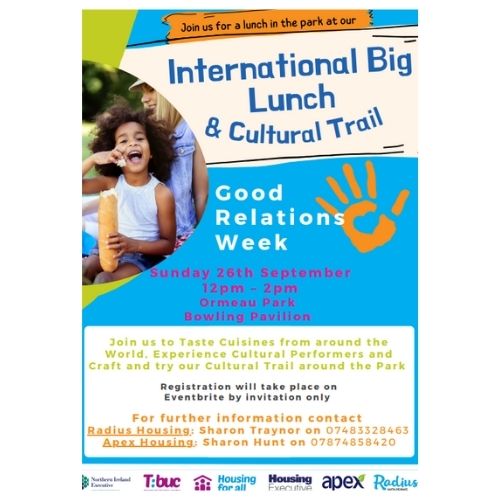 Radius & Apex Housing will host an International Big Lunch in the Park aimed at increasing an inclusive sense of community belonging and celebrating Cultural diversity.
The event will have a wide range of food and information stalls in Ormeau Park. Find out about the diverse cultures and foods of those who live in Sout East Belfast.
For more information, please contact Sharon.traynor@ radiushousing.org
*Invitation ONLY*
For further information on this event, please contact the event organiser.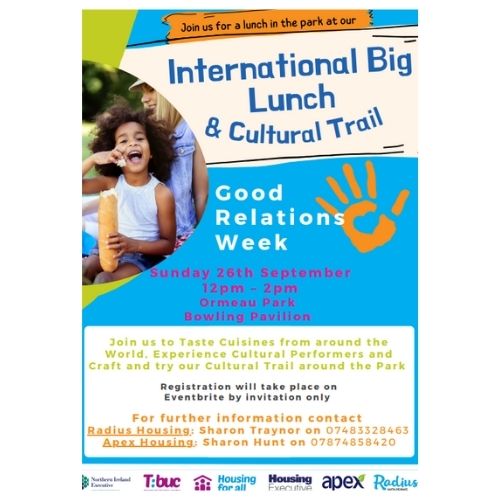 Belfast City Council
Radius Housing
Organiser Bio: Radius provides housing, care and support to over 33,000 homes. We are a social enterprise employing over 1,000 people and managing 12,500 properties in 80 towns across Northern Ireland. Radius has a social housing presence in all 11 council areas, serviced by a regional office networking spanning Belfast, Holywood, Ballymena, Newry and Derry/Londonderry
Contact Number: 0330 123 0888
Contact Email: [email protected]
Address: Radius Housing Association 3-7 Redburn Square Holywood BT18 9HZ
Website: Visit Website