Partition and the Birth of Northern Ireland 1920-21: The Story from the Newsreels – Dr Éamon Phoenix
---
Dr Éamon Phoenix in conjunction with Ann Donnelly of Northern Ireland Screen: 'Partition and the Birth of Northern Ireland 1920-21: The Story from the Newsreels'
Dr Éamon Phoenix is a political historian, author and broadcaster. He is member of the Irish Government's Expert Advisory Group on Centenaries. He is the author of Northern Nationalism 1890-1940 and Conflicts in the North of Ireland,  1900-2000. and writes a daily column for the Irish News.
These events will be delivered via zoom.
If you wish to register for any or ALL of the events please  contact sean.mcelhatton@midulstercouncil.org
For further information on this event, please contact the event organiser.
Mid Ulster
Mid Ulster District Council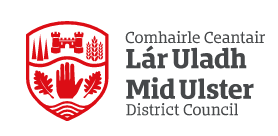 Organiser Bio:
Contact Name: Louise Hall
Contact Number: 03000 132 132
Contact Email: [email protected]
Address: Circular Road, Dungannon BT71 6DT
Website: Visit Website