React Community Relations Week – Virtual Tea-Leaf Reading Class
---
React hosted  two online courses – tea leaf reading and a yoga session – which helped bring people together and learn about other cultures in a relaxing environment.
For further information on this event, please contact the event organiser.
Armagh City Banbridge & Craigavon
REACT NI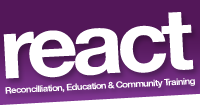 Organiser Bio: React is a community organisation based in Armagh City, covering the Mid Ulster area, with the aim of supporting marginalised groups and individuals through a range of projects. REACT continues to rise to the challenges of dealing with contentious issues on an inter and intra-community basis and encourage those affected by the legacy of the conflict to move forward, through the facilitation of community dialogue and encouraging participation in development programmes.
Contact Name: Lesley Banks
Contact Number: 07739552282
Contact Email: [email protected]
Address: Unit 14/14a Armagh Shopping Centre Thomas Street Armagh BT61 7AE
Website: Visit Website