Sexual Orientation and LGBTQ+ Family Awareness
---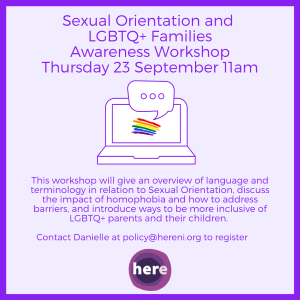 This online workshop will discuss matters such as appropriate language and terminology in relation to sexual orientation, encourage people to to confront stereotypes they may have and give an introduction to LGBT parents and how to affirm these families.
It will also discuss the impact of homophobia and how to address barriers.
To register, please email policy@hereni.org
For further information on this event, please contact the event organiser.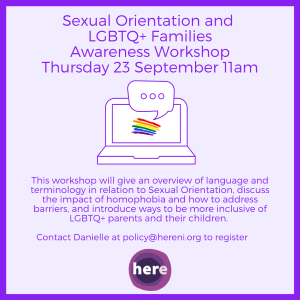 Belfast City Council
HERe NI
Organiser Bio: HERe NI is a community organisation and registered charity based in Belfast. We are here to support lesbian and bisexual women and our families and improve the lives of L & B women across Northern Ireland.
Contact Name: Gráinne Gibson
Contact Number: 07471867736
Contact Email: [email protected]
Address: 23 - 31 Waring Street Belfast BT1 2DX
Website: Visit Website