BCRC'S Connection Day
---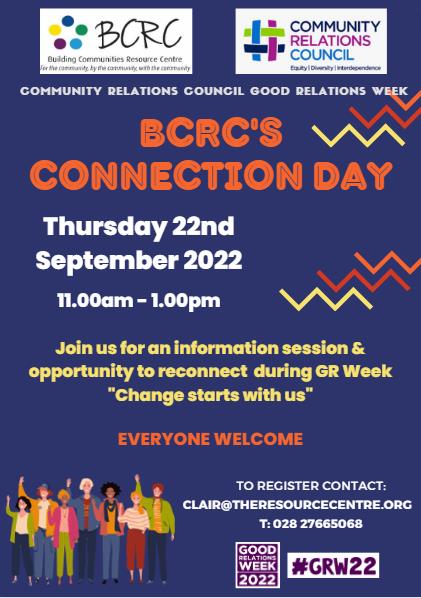 BCRC is a charity supporting community and civil society organisations with diverse projects and programmes including social, cultural, health and economic development to benefit communities belonging to the Causeway Coast and Glens Borough and its environs.
This event will encourage existing network members of BCRC to get together within a safe shared space and reconnect after 2 years of working remotely and explore the concept of ' change starts with us' during Good Relations Week.
We are looking forward to welcoming new members from other groups and organisations within the Causeway Coast and Glens Borough.
This will be an opportunity to share recent life experiences as a group working during the COVID pandemic and for sharing new project ideas that could lead to working collaboratively, creating new partnership opportunities and helping to ensure sustainable communities for the future.
EVENT ADDRESS
Units 22 & 23 Acorn Business Centre, Ballymoney, BT53 7LH,
EVENT SOCIAL MEDIA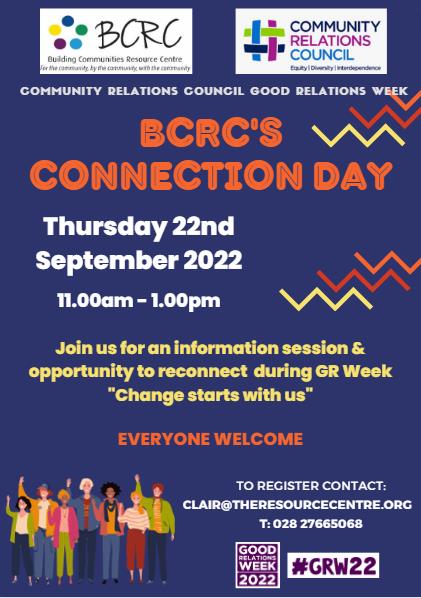 Causeway Coast & Glens
Building Communities Resource Centre
Contact Name: Angela Mulholland
Contact Number: 028 2766 5068
Contact Email: [email protected]
Address: Units 22 & 23 Acorn Business Centre, Ballymoney, Antrim BT53 7LH,
Website: Visit Website